Rail strikes: Passengers told not to travel by train due to disruption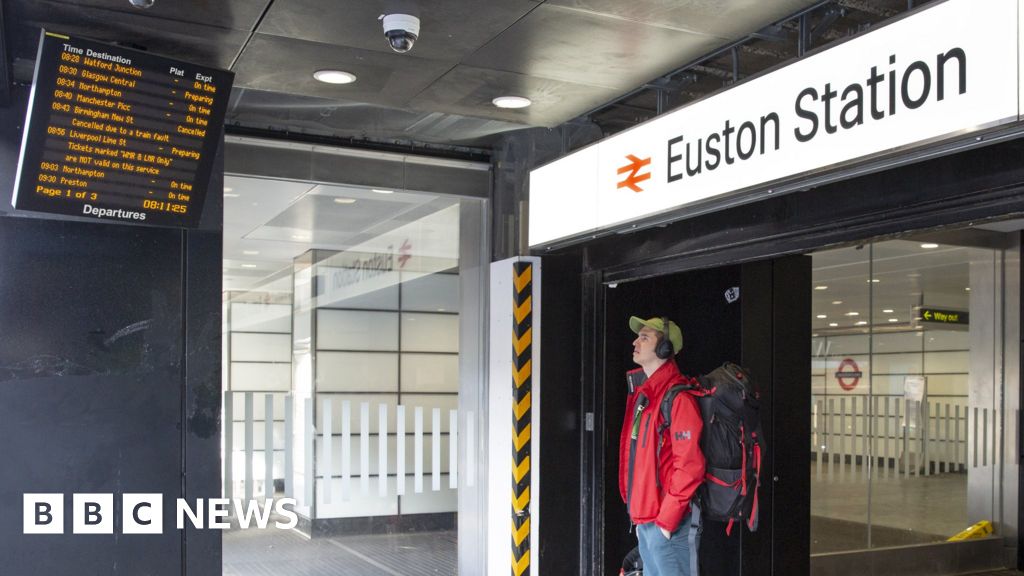 By Rachel Russell and André Rhoden-Paul
BBC News
Football fans and festival-goers are among those facing ongoing travel disruption on Saturday, as more than 45,000 railway workers take part in yet another strike over pay and conditions.
Network Rail said only 20% of trains would run, with operators such as LNER and Cross Country affected.
It comes after UK-wide rail strikes on Thursday and walkouts on the London Underground network on Friday.
Mick Lynch of the RMT union said more industrial action was "very likely".
Transport Secretary Grant Shapps has urged Mr Lynch to offer Network Rail's 'fair 8% pay rise' offer to RMT members.
write in a letter posted on TwitterMr Shapps said: 'People feel this unnecessary and ongoing strike is a kick in the teeth of workers who cannot get to their own jobs now.'
Speaking to BBC Breakfast, Mr Lynch dismissed those claims, saying 'only half of the people involved in this dispute' would fall under the bid.
He also called the proposed figure "puny", said it would apply for three years and said members were "not ready to accept it".
Regarding future action, he added: "I will be talking to senior industry executives throughout the next week to try to create solutions to these issues and then we will decide whether we need to take more industry action – but I said it's very likely given the gap between us at the moment."
The union also accused the government of preventing the railway companies from offering a better deal to its workers.
What trains are still running?
Only about one in five trains run on Saturdays, with some areas having no service all day.
Lines are only open until 6.30pm for ongoing limited services – now the sixth day of nationwide rail strikes this summer.
In London, a bus strike continues from Friday, with routes particularly affected in south-west London and parts of Surrey.
ScotRail said the dispute did not involve its staff, but there could be a ripple effect in Scotland as there are only 11 routes open.
As rail strikes often leave trains in the wrong part of the country at the start of the next working day, Sunday commuters were warned to expect disruption – although 85% of services are expected to be running as normal.
What events are affected?
Music and football fans in particular have been urged to check whether they are still able to travel by train to concerts and sporting events – or whether they have to switch to car or train coach.
Major music events of the day attracting thousands of traveling fans include Becky Hill at Crystal Palace Park in London and All Point's East Festival in Victoria Park, London. Camp Bestival is taking place in Shropshire, but it is believed that most of its 90,000 ticket holders were already there halfway through the four-day festival.
And of course, every Saturday of the football season sees a massive migration of away fans.
Wolves fans have traveled by the thousands to London for their game at Tottenham, while fans at some top Championship clubs such as Sunderland are having a strike-disrupted second day away this season.
Jonathan Winsky from London had bought train tickets to watch Watford FC's game in Preston on Saturday afternoon but will now have to miss it.
He said: "As the strikes mean the last train to Euston will leave five minutes before kick-off, I will not be going to this game again.
"I checked if there were any club coaches, but they were fully booked.
"Last season there were only two away games I missed all season, Burnley and Wolves."
"I have to travel a day earlier to see Coldplay"
Student Kristiana Zunde, 23, from Wakefield, West Yorkshire, says the strikes forced her to travel a day early to a Coldplay concert in London.
Her train reservation for Sunday was canceled due to disruption, so on Saturday she takes a five-hour coach from Leeds to the capital. The trip takes two hours longer than the train she was supposed to take.
Ms Zunde, who is blind, told the BBC: "When I take the train I much prefer it. I can book assistance in advance, they meet me at the station and help me onto the train. good train.
"You can't do that with coaches. I have to ask my friends to go to the coach stations and meet me, in Leeds and London Victoria.
"I understand why the strikes continue, I really do, but at the same time it's frustrating for people who can't drive and for people whose only option is to take the train."
"I spent hundreds of euros on emergency hotels"
Flight attendant Thomas Goodearl, from Ely, Cambridgeshire, says he has spent hundreds of pounds on emergency hotels in recent weeks because he was unable to return home due to rail strikes.
He told the BBC: "I came back from Vancouver to London on Thursday and there was no train leaving King's Cross so I had to stay in a hotel on Thursday night. Friday morning I had no tubes. So I managed to get one. the last two seats on a bus back to my village.
"Unfortunately I have lost nearly £300-400 over the past few weeks in emergency hotels.
"It's either that, or sleep on the ground at Heathrow Airport, which I don't do."
The 37-year-old added that he sympathized with the striking railway workers and blamed the rail companies for not reaching an agreement with the unions sooner.
Why are strikes still going on?
Unions, including union members RMT, TSSA and Unite, are in a row with the government and rail companies as they say wages should rise to reflect the rising cost of living.
Network Rail, says its latest offer is worth more than 5%, although that depends on whether workers accept "modernization reforms".
However, the RMT says it is a "paltry sum".
Mick Lynch, general secretary of RMT, told the BBC: 'We can cope with the evolution of the railway, but what we cannot is impose changes and changes that are detrimental to the lives of our members which will make them unable to modify their invoices.
RDG's Dan Panes also told the BBC the aim was to get "a conversation rather than a confrontation".
What other strikes have taken place this week?
Network Rail staff took action on Thursday with rail strikes, while TfL said Friday's Tube strikes led to a 90% drop in Tube usage on the same day last week, to 98,345 Entries and exits on the London Underground network until 10 a.m. .
General Secretary Mick Lynch apologized for the Tube disruption but claimed the union had been left out of talks between the government, Treasury and Mayor Sadiq Khan's office.
Mr Lynch said: 'They need to get us around the table so we can talk about their issues, but the minute there's been a big stalemate.'
In response to Mr Lynch's claims, London Mayor Sadiq Khan said he and the RMT union were "on the same side here, nobody wants the government to attach unreasonable conditions to our deal".
A transport ministry spokesman accused union leaders of "choosing to inflict misery" by disrupting travel.
Additional reporting Emma Pengelly and Sam Hancock
How have you been affected by the rail strikes? Share your experiences by email [email protected].
Please include a contact number if you would like to speak to a BBC reporter. You can also get in touch in the following ways:
If you are reading this page and do not see the form you will need to visit the mobile version of the BBC website to submit your question or comment or you can email us at [email protected] . Please include your name, age and place of residence with any submission.