Only requirements – see the fight, ride a bike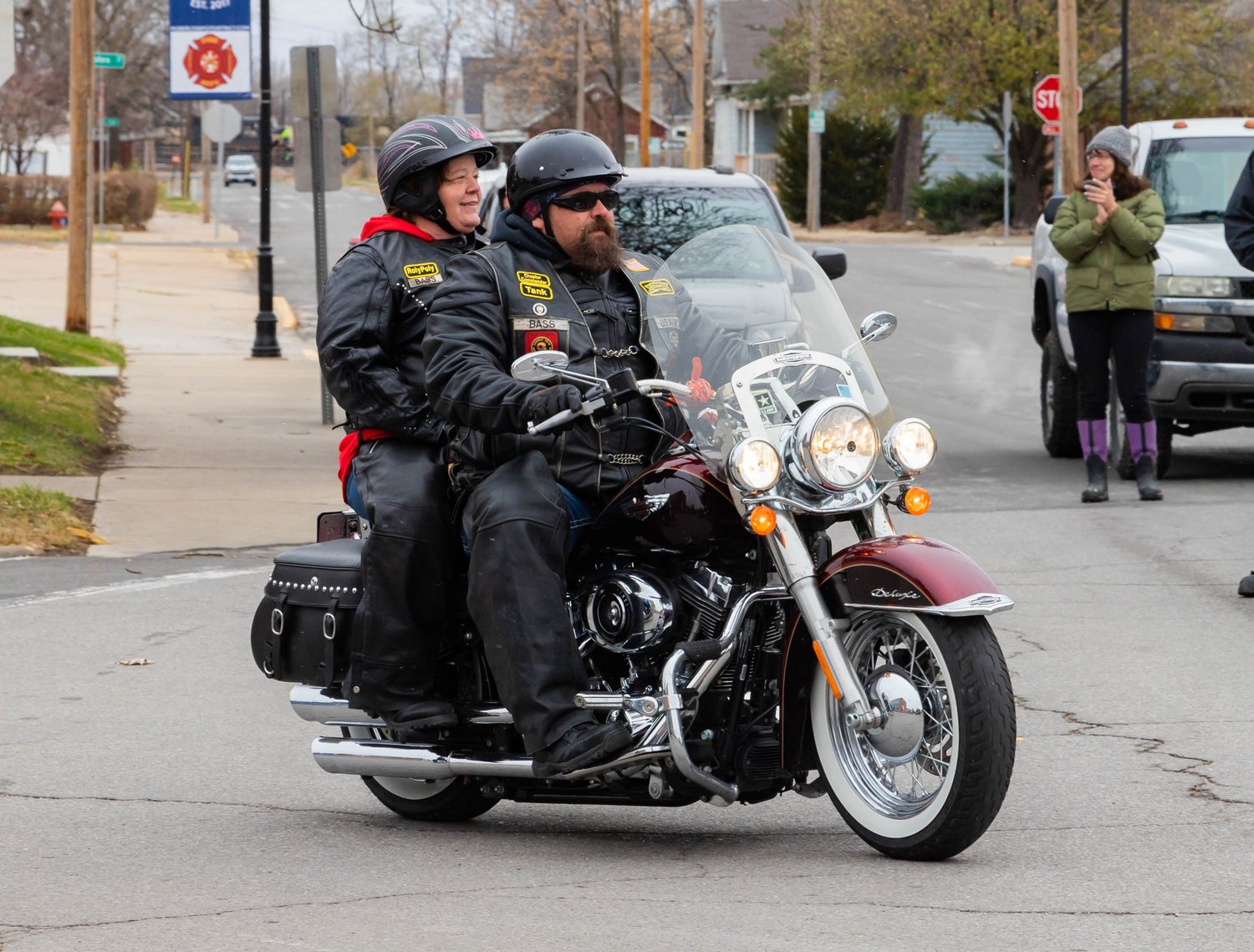 WINONA WHITAKER, Editor-in-Chief
MOBERLY — When the holidays honor veterans, veterans show up to honor their own. The annual Moberly Veterans Day Parade is a tradition for the Combat Veterans Motorcycle Association 47.
"River Rat came from Perry here," said Buffalo, also known as Bob Martin of Moberly. Every rider has a road name, and sometimes that's the only name Martin remembers.
McNasty, from Glasgow, was driving the veterans' truck. Howard Colley of Huntsville was driving his three-wheeler.
And, of course, the Commander of Association 47, Tank Bass, of Moberly, was among the riders.
Every state has Combat Veterans Motorcycle Association chapters, Martin said, but only California and Texas have more units than Missouri.
"It is a unit of [Highway] 63 to [Highway] 70, in this corner of the state," Martin said. "We have about 30.
"We organize fundraisers and we go to retirement homes at Christmas. We probably give 500 Christmas presents on Christmas," Martin said.
"We walk in there and give them Christmas gifts and visit for a few minutes. Martin remembers a year when veterans learned that an old man hadn't spoken in four or five years. "He spoke to us. They couldn't believe it. We woke him up," Martin said.
"It is a comforting experience.
"We are going to Mexico today to the Veterans' House. We donate to them. We donate $1,000," Martin said in a mid-November interview. "We have given four or five years to the house of veterans in Mexico. They're supposed to set up an Alzheimer's wing.
"We were there when they were playing bingo," Martin said. Residents play for a buck or two, he says.
"We had a blackout for 20 or 30 dollars. These guys have gone crazy! said Martin.
Bikers raise funds through membership fees and fundraising. "We had a barbecue in my parking lot," Martin said. They organized poker games and raffles, and people donated money. "We spend a lot of money."
The organization doesn't demand much of its members, Martin said. "You have to be in combat, then you have to ride a motorcycle.
"We have a meeting once a month," Martin said. "Last month we had it in my store here on Coates Street." The veterans enjoyed fried fish that evening.
Martin started riding with the band "right after I got out of the Marine Corp," he said. He was drafted in 1969 at the age of 18. His degree is present, he said.
"I went to California, then to Vietnam. Martin was in Southeast Asia for a year, he said. He was in car transport in the Da Nang area. "I got shot a few times," Martin said. In convoys.
"I had an uncle who was in Vietnam when I was in high school, and I was worried about him," Martin said. The next thing he knew was that he was there himself.
Currently, the Motorcycle Association has seven or eight Vietnamese veterans, Martin said. Howard Colley tracked the Vietnamese using tracker dogs while he was overseas, Martin said.
But this war ended in 1974, almost 50 years ago. The young veterans served in Iraq and Afghanistan.
"When I first walked in, I heard a lot of stories from WWII veterans," Martin said. The stories brought tears to her eyes.
Many veterans ride motorcycles, Martin said. It's a feeling of freedom. While biker gangs have given bikers a bad name, biker organizations are doing a lot of good things for different groups, Martin said.
"We need more members because a lot of Vietnam vets get to the point where they can't ride anymore," Martin said. Randy King of Huntsville is still a member, but he can no longer ride.
"We are always looking for new members," Martin said. Veterans who ride can call him at 660-651-9575.
"We are all brothers," Martin said. "It's brotherhood."