No more nightly closures planned in Malahat, as fuel convoy replenishes gas stations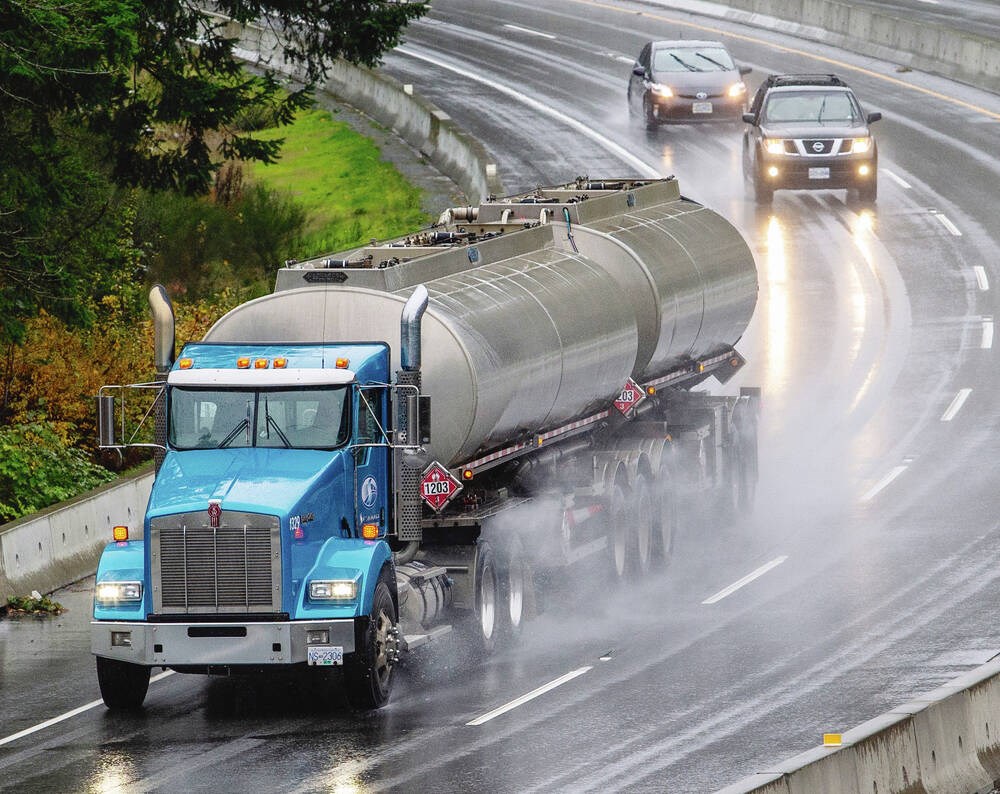 The ministry said repair work has progressed faster than expected and is expected to be completed by the end of Monday.
The Malahat is now open to single-lane alternating 24 hours a day, with repair work progressing faster than expected. It should be completed by the end of Monday, the Ministry of Transportation said Thursday.
The night shutdowns that began on November 15 were to last until Monday.
Motorists should always expect short-term, intermittent closures to prioritize certain vehicles, said Janelle Staite, South Coast region representative for the Department of Transportation.
"For example, we have transported buses full of health workers for the shift change to the site, we are running convoys of tankers through the site," she said. "We welcome ambulances, firefighters. "
Fifteen tankers gathered in Bamberton at 9 a.m. on Thursday and traveled south with an escort to fill petrol stations that were dry.
Staite said the damage to the freeway included the rupture of a retaining wall in the Tunnel Hill area, which undermined the stability of the base of the road under the northbound lanes.
Crews excavated the affected area, drilled into the rock face, and hammered special nails to restore stability.
"Now we're able to slowly rebuild the road, and then finally put that wall back there," Staite said.
This will allow the tracks to be grounded and stabilized "in perpetuity", she said.
Staite said that drivers are always advised to travel the Malahat only if it is essential.
"We are seeing big lineups, but for the most part people have been patient," she said. "We have had to deal with less patient and less kind people with our staff and contractors on site, but overall I think people are quite understanding."
The teams will be on site throughout the weekend, Staite said. "It's a little slower for us to work when we have traffic right next to us. "
The rain that caused the damage was "unprecedented," she said, but general maintenance and ensuring culverts are free of debris should prevent typical rainstorms from causing damage. .
Langford warned Thursday that the intersection of Finlayson Arm Road and the Trans-Canada Highway remained closed in both directions, as residents of Finlayson Arm Road were told to use Millstream Road.
Repairs are underway in the flooded section of lower Finlayson Arm Road, the city said.
With fuel supplies severely reduced by highway closures, vehicles began lining up at service stations in Greater Victoria on Wednesday. As of Thursday morning, many stations were out of gasoline and had blocked their pumps. But relief is in sight with the arrival of the convoy of tankers and the reopening of the Malahat to 24-hour traffic.
The Peninsula Co-op transport company had at least five trucks – separate from the convoy – heading south on the Malahat on Thursday around 6 a.m., four of which were reserved for Co-op stations, the director of operations said. Erik Gault operations.
"We had trucks dropping off products at 6:30 am in a few places. "
He said 10 of the company's 12 stations in Greater Victoria were running out of fuel. Normally, Peninsula Co-op would see four to eight loads of fuel arriving south each day, but none went Sunday through Tuesday.
Problems with dry stations are expected to gradually subside over the next 10-day week, Gault said.
Leithan Slade of Suncor, owner of Petro-Canada, said the company was working as quickly as possible to fill sites in Greater Victoria that were running low on fuel.
Stations on Vancouver Island are supplied with unloaded gas at five terminals north of Malahat. Shell has a tank farm at Bare Point near Chemainus, while Imperial Oil (Esso) and Suncor (Petro-Can) have terminals in Nanaimo. Parkland Fuel has terminals at Port Hardy and Hatch Point in Cobble Hill.
A spokesperson for Parkland said the company was closely monitoring the temporary shutdown of the Trans Mountain pipeline and train disruptions related to the flooding.
Up to 40 percent of gasoline sold in British Columbia normally arrives in the province as refined product through the Trans Mountain pipeline, which was closed on Sunday due to flooding and extreme weather conditions. Trans Mountain Corporation said it is doing everything to restart the pipeline as soon as possible.
However, gasoline is also produced in British Columbia at Parkland Corporation's Burnaby refinery. Parkland says it maintains supply to its retail gas station network and operates the refinery using existing crude oil inventories.
Gasoline also enters British Columbia from Washington State.
"The broader supply chain for essential fuels is resilient," the company said in a statement.
– With files from The Canadian Press