More than 3,000 people passed through Padma in 45 hours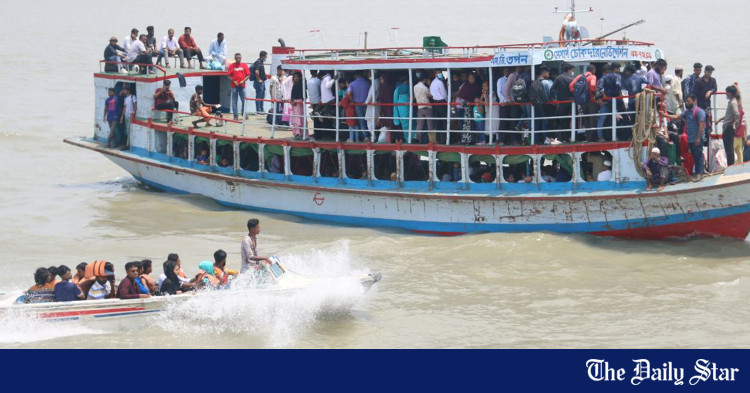 About 3.05 lakh people crossed the Padma River in 45 hours till last night ahead of Eid-ul-Fitr which will be celebrated tomorrow, according to BIWTA.
Eid holidaymakers had crossed the river from Munshiganj's Shimulia ghat by 155 speedboats and 86 speedboats, reports our Munshiganj correspondent.
For all the latest news, follow the Daily Star's Google News channel.
Launches depart from Shimulia from Munshiganj, Banglabazar from Madaripur and Majhikandi from Shariatpur from sunrise to 10pm daily. And speedboats run until sunset.
According to BIWTA's Shimulia ghat sources, 110,000 people crossed the Padma in speedboats and launches in 4 p.m. yesterday.
Md Shahadat Hossain, deputy manager of Shimulia river port, said the launch made 372 trips from 5:50 a.m. to 10 p.m. yesterday. About 110,000 people crossed the Padma during this period.
Bangladesh Inland Water Transport Corporation Shimulia Ghat (Trade) Manager Md Jamal Hossain said there was additional pressure of private cars and motorbikes at Shimulia ghat over the past two days.
However, as the day progressed, the traffic pressure lessened. Using this ghat, around 4,000 motorbikes passed through Padma yesterday. Another 1,500 private cars and microbuses passed by ferry.