Hydrogen – Viritech introduces new hydrogen powertrain technology in Apricale hypercar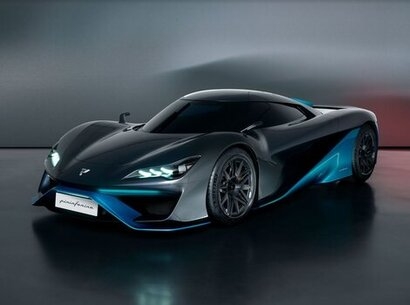 According to Viritech, Apricale is the first car in the world to achieve the performance of a zero-emission hypercar, weighing just 1,000 kg. This transforms the Apricale driving experience, combining the agility of the best gasoline-powered hypercars with the instantaneous response of an electric motor. Viritech says the electric drivetrain means the Apricale is actually more responsive than a traditional hypercar.
Many vehicles cannot run on a powertrain that weighs more than an equivalent internal combustion engine. Until now, these categories of vehicles have been excluded from the switch to zero-emission powertrains, because batteries are always heavier than internal combustion engines – and the higher the power required, the greater the difference.
The Apricale powertrain shows that a zero-emission powertrain can offer the same power, weight and range as a combustion engine.
The ambition to overcome all the trade-offs of zero-emission vehicles forced Viritech engineers to completely reconsider how fuel cells and batteries work together.
"Hydrogen fuel cells have, until now, been used as range extenders for powertrains with batteries at their core," said Matt Faulks, CTO of Viritech. "We essentially flipped this approach by developing a powertrain around a multi-hundred kW fuel cell system backed by a lightweight but highly efficient battery. This offers hypercar performance for Apricale, but at less than half the weight of typical BEV hypercars. Not only does this weight reduction transform Apricale's driving dynamics, but our reduced reliance on batteries means less demand for rare earth minerals.
The hundreds of kW fuel cells are combined with unique ultra-high power lithium-ion cells developed by technical partners, AMTE Power and Viritech's patent-pending intelligent energy management system, Tri-Volt. While the fuel cells provide Apricale's primary motive power, the battery provides additional power for acceleration and ultra-performance driving, as well as highly efficient storage for regenerative braking energy.
Viritech's Tri-Volt energy management system and patent-pending power electronics enable a continuously variable blend of power from both fuel cells and batteries. In addition, the very fast charging and discharging batteries allow the regenerative braking system to recover significantly more kinetic energy than a traditional battery electric vehicle.
Hydrogen has been another key weight issue so far. To withstand the pressure of 700 bar, most hydrogen storage tanks have a weight efficiency of only around 5% (5 kg of hydrogen requires a 100 kg storage tank). Viritech engineers have developed a radical solution – patent-pending Graph-Pro technology uses lightweight composites and a graphene-enabled resin system, allowing the tanks to become part of the structural element of the Apricale monocoque. This solution minimizes weight, improves packaging and provides a projected range of over 350 miles/560 km before refueling.
The fact that Apricale weighs just 1,000kg means it can escape the driving constraints of a BEV hypercar. The suspension includes a versatile pull-rod torsion bar suspension with a limited degree of active ride control.
With a low polar moment of inertia, the car will have the dynamic characteristics of a classic mid-engine supercar with minimal weight transfer under steering, yaw and pitch.
There are two drive motors (one on the front axle, one on the rear). Weighing less than 1,000kg, torque vectoring requirements are limited, so the transmission uses a pair of mechanical differentials.
The unique combination of lightness and instantaneous response of the electric motors means the Apricale will be even more inspiring to drive than a traditional supercar.
The Apricale revealed at Goodwood last week was originally conceived as a reference design by Viritech, and optimized by Pininfarina.
Silvio Angori, CEO of Pininfarina, described the design as "a synthesis of technology, durability, beauty and above all performance". Along with developing the style of the Apricale, Viritech is in discussions with Pininfarina to build the limited production run of just 25 examples at its Cambiano workshop in Turin.
With stunning looks, Apricale will not only be seen, but also heard. The vehicle will have its own distinct, futuristic sound emanating from the fuel cells and electric drivetrain.
Apricale's key technologies, including transmission, Tri-Volt EMS and Graph-Pro structural storage tanks, have already been validated in two mule vehicles that have been successfully tested. Experimental Prototype 1 (XP1) will provide the final approval process for the powertrain. While XP1 will be tested over 100,000 km, it will ride a production prototype, intended to validate all aspects of Apricale in 2023, so that Viritech can begin deliveries to customers in early 2024.
The technologies developed by Viritech are highly scalable. Viritech focused on the Apricale for its first application since a hypercar platform makes the greatest demands on power, weight and packaging. Proven in Apricale, the powertrain technology is developed by Viritech for a diverse range of sustainable transportation applications.
For more information :