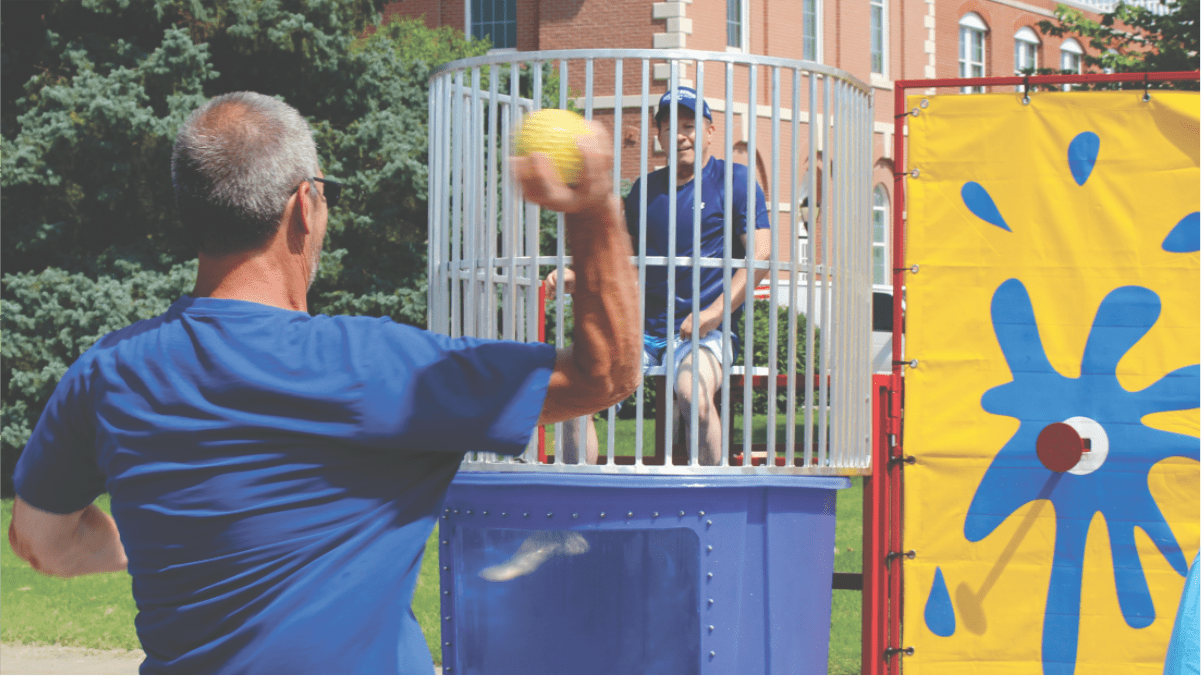 'Merica, baby.
Wow, what an awesome event on July 4th was hosted on relatively short notice by the town of Platte City. Fantastic participation for a day of family fun in the town center square on Sunday. It was an example of small town America at its best. When something goes so well and feels so good for so many people, how can you not want to do it again? Breaking news: There's a good chance this will become an annual thing.
"Nothing official yet, but I think we'll try an annual event on July 4th," Mayor Tony Paolillo told me Tuesday.
Like. It will be good for Platte City. Good for the residents. Good for the community spirit. Good for the business world. With more time to prepare and now that the event has shown that it has some pulling power, I expect more vendors and businesses to want to be a part of it, especially since the next year, July 4th will not be a Sunday. Those of us at The Landmark had a great time and are thankful that we were invited to be a part of all the fun, especially at the dunk tank.
It is certainly good to see that the city is seriously considering making the 4th of July celebration an annual event and I'm happy to see that the city is already asking anyone interested in volunteering at future events to contact the city ​​Hall. Maybe also push the local chamber of commerce to make sure they woke up after COVID.
City officials expected around 800 people to attend. They got 2.5 times that much, with around 2,000 to 2,200 people entering and exiting during the four-hour celebration that included free menu options from several food trucks, all courtesy of the city.
Here is a post from a commentator on the Platte County Landmark Facebook page that I think sums it up pretty well: "I thought it was a big event. I loved the 'hometown' feel. Hope you do it again! "Said Ione Roe.
On Sunday towards the end of the celebration, I had a chat with a couple from Parkville who had followed The Landmark's early coverage of the Platte City event and decided to come for a taste of the celebration. They were impressed, especially with the "free" aspects of the celebration for children's activities and the like. Compared to a carnival where parents would have to spend a considerable amount of money for children to enjoy the rides and related activities, "this is the way to go," they said.
---
What is impressive about the 2,000 participants is that it was an organically generated crowd. What do I mean by that? Basically what I mean is that there wasn't a school group of 100 to 200 kids to play. The secret to ensuring you have a crowd at a community festival is to ask, say, a few hundred school children to perform, as that means a few hundred parents are going to have to bring those kids to the show. Add in some interested aunts, uncles, and grandparents, and boom, you've fertilized yourself a crowd. This celebration was nothing like it. This crowd has been organically grown. Everyone who came was there of their own accord. They weren't there to transport their children to compulsory schooling.
The allure of free food, of course, played a major role. City officials are hinting that if this becomes an annual event, the city will likely make a difference when it comes to free dining options. Expect food trucks to be a 'paid' option for attendees in the future, while the free dining option will more than likely be similar to burgers and hot dogs, cheaper and easier to find. serve quickly in large quantities.
The only downside to the larger-than-expected turnout is that it resulted in long lines in the food trucks. But honestly, no one seemed to care too much. I can tell you that the 30 minute wait for Big Daddy's and Son food truck on Sunday was well worth it for me.
"It was the most important July 4th in Platte City for several years," said DJ Gehrt, city administrator.
Oh, there is no doubt about it. In the 1980s, some community groups celebrated Zed Martin Founder's Day in Platte City around July 4th. But as someone who hit it all off as a young journalist, I can tell you that these events weren't even close to being in the same crowd-wise category as Sunday's shindig.
---
By the way, I remember a Zed Martin Founder's Day celebration in the 1980s in downtown Platte City that included a "best legs" contest. One of the competitors? None other than Shirley Kimsey, longtime owner of a downtown business.
Although her downtown clothing store has been closed for a long time, Shirley is still there. If you see her, ask her about that leg contest from 40 years ago.
---
From a PR standpoint, this thing was a home run for Platte City's new mayor, Tony Paolillo, who has now been in office for about a year. I am willing to forget the fact that the mayor threw a huge cooler in the immersion tank while I was on the board.
Paolillo dedicated his time to the dunk tank, leading this event, and was sent for a dive several times by youngsters in a long line.
Hours later, Paolillo was helping city staff clean the street after the four-hour event. "We have a full-service mayor. He was helping us clean up, "Gehrt noted.
Paolillo, who usually keeps a low profile in public, said this Tuesday when I contacted him by text: "I want to thank everyone who came out and made this event a great one. I would also like to thank all of the city staff and their families who donated their time to work on the event. Without them, we could not have done it. "
City officials are right when they say this thing is too important to expect to be handled only by city staff and their families.
---
De Gehrt: "One last word. The dunk tank was way too popular. I was worn out getting back on the seat about 45 times.
---
Platte City Police Chief Joe Wellington and another Platte City officer recently visited Compass Elementary to meet freshmen as part of the Young Student Summer Program. "Normally the first question everyone asks is' Have you ever shot someone? Wellington said. "But nobody asked for that," he said of the multiple classes of first graders the police spoke to. So, boss, what did all the first grade classes ask you?
"They wanted to know if we were eating donuts.
(Grade one students fall for cops and donuts. Are they campaigning to become Landmark Columnists? Send your resume to [email protected])
RELATED CONTENT:
A smashing success
Dunk tank, naughty scooters and July 4th