CFI wins CargoNet's Cargo Security Award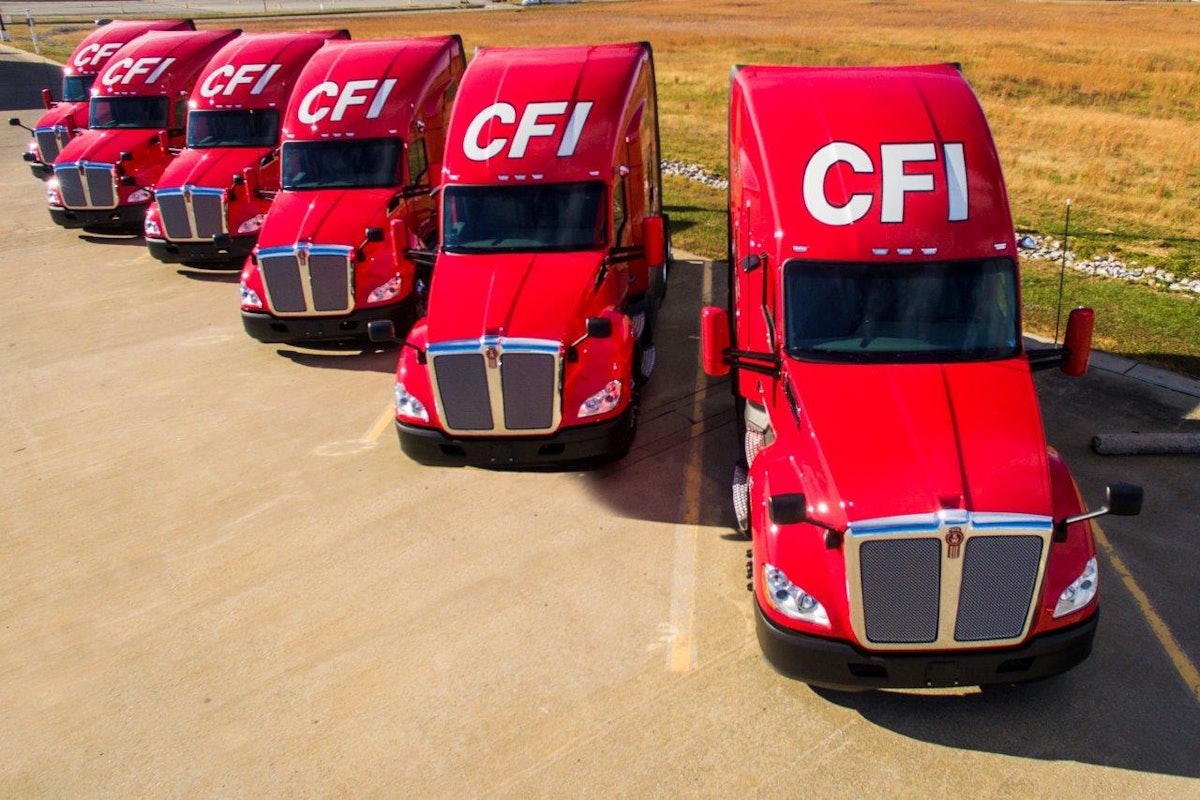 Trucking news and briefs for Thursday, September 15, 2022:
CFI wins the Cargo Security Award
CFI, subsidiary of Heartland Express (CCJ Top 250, No. 45), won the CargoNet Group's 2021 Best in Cargo Security Award in the Large Motor Carrier category.
CargoNet provides predictive analytics and real-time data to improve cargo security with a prevention and recovery network to protect both professional drivers and cargo.
CFI has been a CargoNet transportation partner since 2018, securing transportation services across North America. This is the second time that CFI has won CargoNet's Best in Cargo Security award. So far in 2022, CFI Asset Services has experienced 0 cargo theft.
"We take cargo security, fraud reporting and theft recovery seriously for each of the 5,000 asset-based shipments we ship each week," said FCI President Greg Orr. "CargoNet provides the tools and information to help us stay ahead of cargo thieves."
CargoNet cited CFI for exemplary overall performance, specifically calling out its security and fraud prevention program. The program uses sophisticated machine learning algorithms and predictive analytics to identify and anticipate potential cargo theft threats.
CFI's high security program has also been recognized for its active management of high security cargo, using protocols and systems that maintain continuous communication with the driver en route and proactively alert the driver to high risk areas of flight to avoid.
"CFI's active engagement and participation in CargoNet's security awareness programs earned them the 2021 Best in Cargo Security award. It's always a challenge for intermediaries to justify a return on their security investment," said Ryan Shepherd, CEO of CargoNet. "CFI clearly understands the importance of freight security and continuously applies the appropriate resources to protect its customers' freight," he added.
Wabash launches new smart thermal management sub-brand
Wabash recently introduced Wabash Acutherm, a new portfolio of offerings designed for intelligent thermal management.
Wabash Acutherm thermal solutions provide improved levels of thermal efficiency and management for hot and cold applications, the company said. With superior heat capacity and structural integrity, temperature states can be maintained regardless of application or environmental conditions.
"Wabash Acutherm demonstrates our commitment to meeting the demands of the cold chain market, as well as other areas of transportation where temperature control is critical to food safety and consumer health," said the Wabash Chairman and CEO Brent Yeagy. "We closely monitor our customers' evolving needs for superior thermal solutions that provide versatility and, ultimately, operational and financial benefits.
Currently, the new product line consists of Wabash Acutherm refrigerated box trailers with EcoNex technology, Acutherm refrigerated delivery boxes, Acutherm refrigerated delivery boxes with EcoNex technology, Acutherm sanitary tank trailers and Acutherm refrigerated box inserts. The company plans to add more thermal solutions under the Acutherm sub-brand in the future.
JJ Keller Expands ELDT Trainer Certification to Include Hazardous Materials Approval Training
To help trucking companies and their trainers provide instruction that meets the requirements of the Federal Motor Carrier Safety Administration's Entry-Level Driver Training (ELDT) regulations, JJ Keller & Associates now offers an option to hazardous materials approval for its JJ Keller Safe & Smart ELDT Trainer Certification Program.
"According to the ELDT rule, obtaining hazardous materials approval requires a very specific program which includes theoretical instruction followed by theoretical evaluation, with the driver-trainee receiving a grade of at least 80%," said Dustin Kufahl, director of driver training at JJ Keller. . "We prepare trainers to deliver this training by making sure they understand all aspects of the content, then working with them using the exact types of vehicles their drivers will be operating in."
by JJ Keller ELDT Trainer Certification Program – Hazmat Approval certifies a company's trainers to train novice drivers who wish to obtain their hazardous materials approval, allowing drivers to operate a vehicle transporting hazardous materials that require placards or to transport any amount of a material listed as an agent or toxin selected in 42 CFR Part 73.
Training topics covered include hazardous materials requirements, loading and unloading of hazardous materials, emergency response procedures, safety permits, route planning and more.