7 Best Air Compressors on Amazon in 2022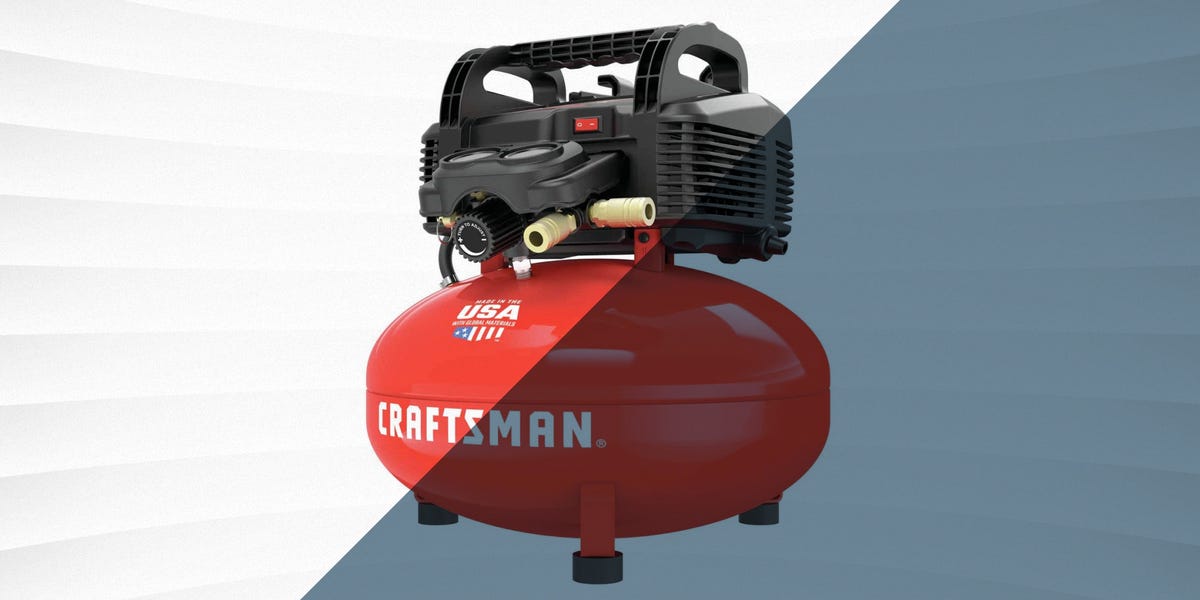 Staff, courtesy of CRAFTSMAN
Compressed air is a convenient and efficient way to use a range of power tools, such as nail guns, pressure washers and paint sprayers, to name a few. The air compressors below let you harness that power and, using long hoses and fittings, are designed to easily attach to your tools, providing an impressive amount of movement while you work.
You can also use their air to inflate large items like air mattresses or pool floats, and we've used them many times to clear sawdust from our tools and clothing after a long day in the shop. You don't even have to search for a specialty store to buy one of these useful tools anymore – we've rounded up the best air compressors on Amazon that will be delivered right to your door.
What to consider
The first thing to consider when choosing an air compressor is which tank size is right for you. A smaller tank, while lighter and easier to transport, won't last as long as a larger one, and depending on your project, it could potentially run out in the middle of your job. When this happens, you'll have to wait for the tank to refill before continuing, which can be frustrating and time-consuming. Most do-it-yourselfers should make do with a 6-gallon tank, which should be enough to power nail guns and sprayers for small painting projects.
The tool you use is another factor to consider. Different tools will have different pounds per square inch (PSI) requirements, so be sure the air compressor will be able to provide the pressure needed to complete the job. Fortunately, this number is easily found on your tool and will be one of the main measurements advertised with any air compressor.
How we rated
During my time as a residential and commercial carpenter, I used air compressors for a number of tasks, such as nailing and spraying paint. I've also used them for household chores, like pressure washing, inflating tires, and cleaning sawdust from power tools. This hands-on experience helped inform this list and made it easier to identify the brands and models that would be most useful to DIYers.
Below, you'll find air compressors for sale on Amazon in a wide variety of sizes and at different prices, so whatever your specific project, you should find an option that's right for you.
Advertising – Continue Reading Below
1
Ideal for beginners
6 gallon air compressor
Key specs
Capacity: 6 gallon
Dimensions: 16.5 x 16.5 x 17.88 inches
Weight: 32.5 pounds
psi: 150 max
Wheeled: No
This Craftsman 6-gallon compressor is a great choice for new DIYers, thanks to its reasonable price and included accessory kit. This kit includes three inflation adapters, a blower nozzle with a safety nozzle and a tire pressure gauge. It also comes with a 25-foot-long air hose, so you don't have to worry about dragging the unit around while you work.
We're also a fan of the bright red color of this machine, which is easier to spot than some other air compressors. Its engine should have no trouble starting in cold weather, and the 32.5-pound weight is relatively light for a unit this size.
Includes pressure gauge and chuck
25 foot hose
2
Best Brad Nailer Combo Kit
Air Compressor Combo Kit with Brad Nailer
Key specs
Capacity: 6 gallon
Dimensions: 19.5 x 17 x 19.25 inches
Weight: 34 pounds
psi: 150 max
Wheeled: No
If you are interested in buying a compressor for nailing and you don't yet have a nail gun, this unit could be the perfect solution.
It includes a Bostitch SB-1850BN nail gun, one of my favorites that I have used for years at a professional custom furniture store. The compressor itself also includes a 15-foot air chamber, so you should be able to comfortably work around large pieces of furniture in your workshop or garage.
A 6 gallon compressor and high quality brad nailer for this price is great value, and one not to pass up.
15 foot air hose
Includes Bostitch Brad Nailer
3
Quietest operation
1 Gallon Ultra-Quiet Air Compressor
Key specs
Capacity: 1 gallon
Dimensions: 16.1 x 14.1 x 11.1 inches
Weight: 28.8 pounds
psi: 125 max
Wheeled: No
It's not exactly "quiet" compared to other tools, but the 58 dBA sound level of this Stealth model makes it much quieter than other compressors and would be perfect for those who want to cause as little disturbance as possible. .
The 13-inch width, combined with a textured handle, should also make it easy to carry and less likely to bump into your legs as you walk. The 1 gallon capacity means it can't run for a ton of time between refills, so it won't be ideal for large projects that require a lot of compressed air.
Compact size
Easy to use
Lightweight
4
Best Large Capacity Option
27 Gallon 200 PSI Portable Air Compressor
Key specs
Capacity: 27 gallon
Dimensions: 54.5 x 26.8 x 23.5 inches
Weight: 136 pounds
psi: 200 max
Wheeled: Yes
If you need to be sure your compressor always has enough air when you need it, this 27 gallon tank might be just what you're looking for. Plus, while it's significantly larger than the lower capacity options on our list, the vertical design creates a relatively small footprint, allowing it to fit into spaces as small as 27 inches in diameter.
The 2-inch gauges are also easy to read, and the rubber tires and steering handle make it easy to maneuver wherever you want.
It's also relatively quiet; at 78 dBA, it makes a similar amount of noise as the smaller capacity options on our list.
Big capacity
Easy to move
5
Best portable option
air compressor assembly
Key specs
Capacity: 1.5 gallon
Dimensions: 15.5 x 13.25 x 20.5 inches
Weight: 20 pounds
psi: 150 max
Wheeled: No
While it wouldn't be practical for large projects, this Porter-Cable compressor still packs a punch and should be enough to tackle most light-duty jobs.
It also weighs only 20 pounds, so it should be easy to transport to and from a vehicle, or around the room while you work with a stapler or nail gun. Its compact size is also perfect for those who don't have a lot of space to spare.
At 79 dBA, however, it's louder than most compressors, so keep that in mind if you have sensitive ears or sensitive neighbors.
Lightweight
Easy to carry
Noisy
Not ideal for big jobs
6
Ideal for light inflation
Electric Tire Air Pump
Key specs
Capacity: N / A
Dimensions: 8.9 x 6.2 x 4 inches
Weight: 4.27 pounds
psi: N / A
Wheeled: No
Although not technically an "air compressor", this inflator can perform similar light air filling tasks.
Instead of spending time and energy inflating sports balls with a hand pump or heading to the gas station to inflate your car's tires, this Husky inflator will get the job done quickly and with almost no effort from you. The phosphorescent pressure gauge is easy to read, even at night, and at less than five pounds, this device is comfortable to carry around when you need it.
We wish the power cord was longer than 48 inches, but that's definitely not a dealbreaker, especially given this model's low price.
Compact size
Low price
Includes a needle to inflate the balloon
Not powerful enough for big jobs
seven
Best gasoline compressor
Portable Gasoline Air Compressor
Key specs
Capacity: 30 gallon
Dimensions: 41 x 19 x 40 inches
Weight: 492 pounds
psi: 175 max
Wheeled: No
If you can't reach for an electrical hookup and have the budget for it, this gas-powered compressor from North Star could be a great choice. It has an impressive 30 gallon tank and, with its cast iron pump, is well suited to withstand the rigors of a busy job site.
At 492 pounds, it's much heavier than the other options on our list, and certainly not as portable as smaller electric compressors. It should also be noted that like all gasoline compressors, this one cannot be used indoors.
Big capacity
Sustainable construction
This content is created and maintained by a third party, and uploaded to this page to help users provide their email addresses. You may be able to find more information about this and similar content on piano.io
Advertising – Continue Reading Below